Top 4 Tattoo Artists in Goa – Top Tattooist in Goa India
Top 4 Tattoo Artists in Goa – Top Tattooist in Goa India: Trying to Find a Good Tattoo Artist in Goa? We're here to ink an attractive tattoo that will make you look cool and more attractive than before.
Let's say that you've considered all the effects of having tattoo. It's been considered that it'll be a lifelong commitment and is a permanent mark on the body, aside from having it surgically removed.
You know what type of design you'd like to have created. You know exactly where on the body you'd like it imprinted. Now, you don't have to worry about how to find a good place to get inked because our specialist body art team is here to get the job done.
Top 4 Tattoo Artists in Goa – Top Tattooist in Goa India
Here we look at the best tattooists and tattoo experts who have popularity in "Tattoo field, Body art" in Goa: Base in north Goa Calangute.
Moksha Tattoo is one of the biggest chains of tattoo studios in GOA, started by a well qualified artist Mr. Mukesh Waghela after obtaining a professional degree in tattoo making from Thailand Tattoo School in 2003. His passion for tattooing is so infectious that people with no inclination to get inked go back with his art embedded on their body!
 Top 4 Tattoo Artists in Goa – Top Tattooist in Goa India
Name List:
1. Mukesh Waghela renowned and Best tattoo Artist in India Goa
Mukesh's forte lies in Custom artwork, where he gets an opportunity to explore his creativity.
Artist Mukesh Waghela has an experience of 17 years and an international and national award-winning top rated tattoo artist in the Indian tattoo industry.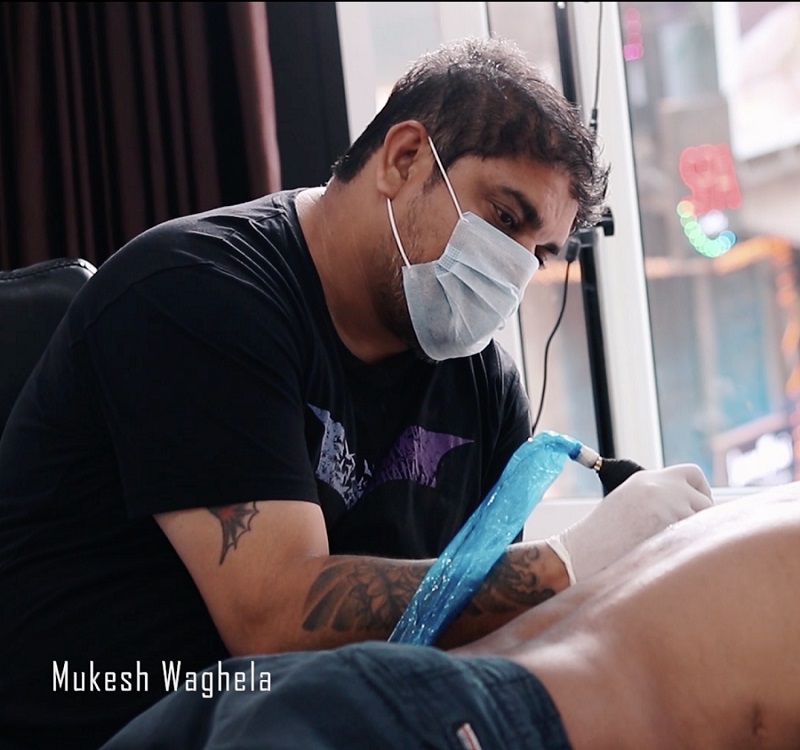 He has won total of 38 tattoo awards till date and still counting.  He has served as a jury member/judging panel for several national and international tattoo festivals.
Mukesh has inked several celebrities across the globe including Chris Gayle, Tapsee pannu, Raghu Ram and many more. Mukesh also hosts several tattoo trainings, seminars and workshops across the country. He is one of the senior and a living tattoo legend of Indian Tattoo Industry.
Moksha Tattoo Studio has been also voted India's one of the best tattoo studio by the UK's famous tattoo magazine 'Total Tattoo Time".
2. Kate Perets Awesome Tattoo Artist in Moksha tattoo Studio
From childhood She have been doing drawing with the creation of interesting things. From 2001 to 2009, She went to an art school in her small, cozy hometown in southern Russia.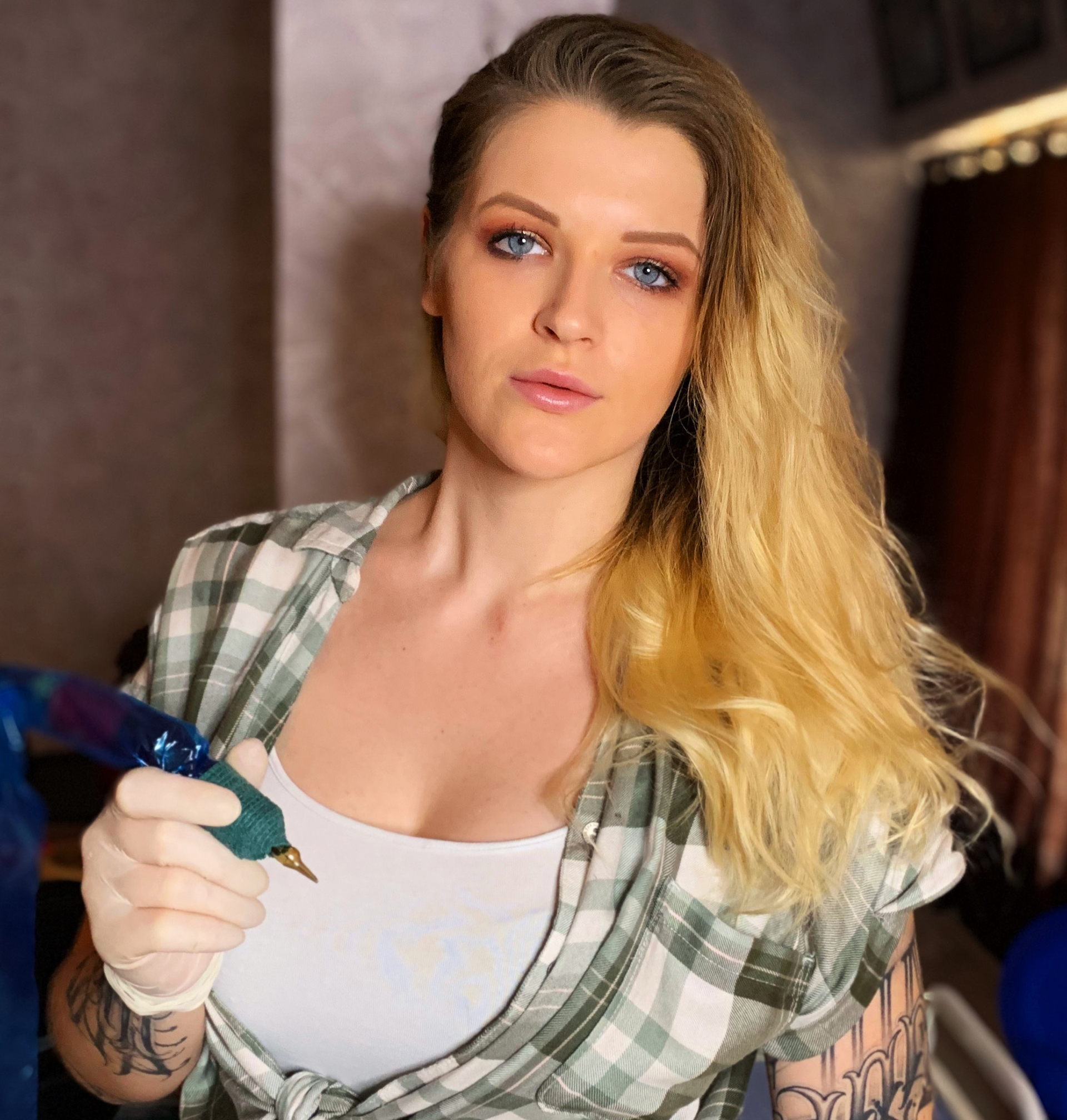 When She turned 15, decided to change everything dramatically and discover a big world! She packed her suitcase and left alone for St. Petersburg to study. There were almost no chances to get into a good educational institution without money and on a free basis.
The level of training was not sufficient and young age was the reason. But luck loves the brave! And I tried, did her best and could do it for free! She hardly slept to keep up with the program, it was very difficult to study, it was the best college in Russia, it was also difficult to live without parents. But She coped with all the difficulties and even found a job, and in 2013, graduated from college with a Red Diploma.
Everyone was proud of her, but She understood that this was only the beginning of her journey, a small step. Then She entered the best pedagogical university in Russia and realized that She needed something more, development as an artist, She tried to understand how She can realize herself as an artist.
Thought about a tattoo and after a few days Kate started studying at a tattoo school. It was very difficult to overcome the barrier and hurt someone, as well as drawing a tattoo machine is very different from drawing on paper.
Kate had to change everything, everything was different. But She tried very hard and her teacher noticed this and wanted to take me as a professional artist. her happiness knew no bounds! But again, this was only the beginning, of a difficult path. Constant search for answers, thirst for knowledge, courses, seminars, webinars.
Her head became a tattoo industry information bank. She felt like a sponge! Kate continue to learn every day, try something new. A few months ago She moved to India, and Kate delighted with this country, this is an amazing place!
Kate Perets met the team of Moksha Tattoo Studio and her wonderful boss, She adore these guys! every day they learn something from each other.
Now Kate Perets prefer to work in the style of realism and lettering. But Kate can realize any idea of the client in the best possible way. If you want everyone to envy your tattoo, it's time to book her appointment !)
Abhishek Kaushik , He is from Chandigarh (India) . He have done his studies in Fine Arts and He have an experience in Tattoo Industry of more than 5 Years.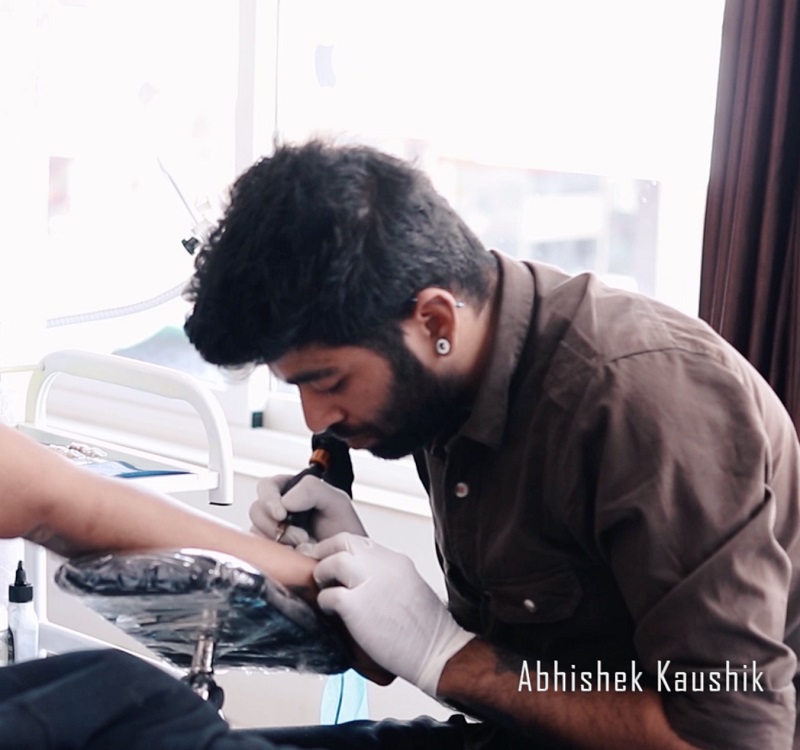 He have participated in many Tattoo Conventions across India. Tattoos according to him are Ornaments by which we decorate our body and they also represent our feelings and define us . He like to do Tattoos in every style though He love to do Semi realism , Realism and Neo traditional tattoos. He would love to achieve more and more in this field.
4. Poonam Rathod, professional tattoo artist in Goa have 7 years of experience
Poonam Rathod, from Goa (India). Her journey started in 2005. Her family has always supported and encouraged her to become a tattoo artist. Her parents were having lot of hopes and expectations from her, for Her better future in tattoo industry.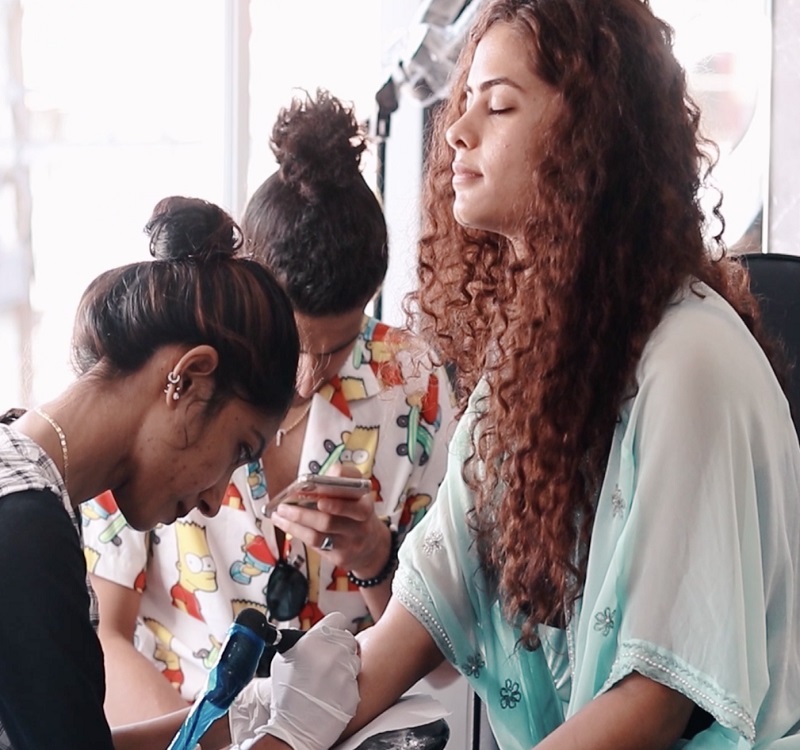 With their constant support Poonam took a decision of joining in a tattoo studio as an artist. Poonam worked for 5 years. FurtherShe decided to become a professional tattoo artist so Poonam visited moksha tattoo studio, where our sir Mukesh Waghela consulted me that Poonam have to take 6 months of training under him at moksha tattoo studio, to get more knowledge about tattooing and to become a professional tattoo artist. It was a great experience learning from him. After completing Her tattoo training, with his guidance now She have become a professional tattoo artist have 7 years of experience.
With the support of Moksha team Poonam got an opportunity to participate in a international tattoo convention at GOA TATTOO FESTIVAL 2020. She bagged total 3 awards.
1st place in EASTERN TRADITIONAL TATTOO
1ST place in BIG BLACK AND GREY TATTOO
2ND place in BEST BLACK WORK TATTOO
This was one of the happiest moment of Her life, that Her dream came true. Now Poonam want to be a high level tattoo artist in India Goa and Poonam is looking forward to achieve greater heights.
Top 4 Tattoo Artists in Goa – Top Tattooist in Goa India
Also read what other says about us: Here Tattoo Shop Goa