#1 Best Tattoo Shop Goa | No. #1 Tattoo Artist Goa Japanese tattoo
#1 Best Tattoo Shop Goa | No. #1 Tattoo Artist Goa Japanese tattoo: So you've decided that you want a Japanese tattoo. Congratulations. You've chosen a style of body art that's rich with symbolism and has links to ancient Japanese traditions. The majority of Japanese tattoos consist heavily of written symbols which can be divided into three main categories.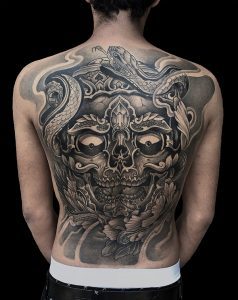 1) Kanji
Of the three types of Japanese tattoo symbols, Kanji is the most popular because it is so expressive and artistic. Each different Kanji symbol (of which there are reported to be more than 40,000) represents a specific idea or meaning. So by combining a number of different Kanji symbols in your tattoo design it's possible to create a stylish and unique tattoo that expresses an unlimited number of ideas and messages.
2) Hiragana
Unlike Kanji symbols, which represent various ideas or meanings, Hiragana is a style of writing that's used in everyday Japanese life. You'll find it used in media such as newspapers and magazines, so it's much more amenable to literal translation than Kanji.
In terms of design, the hiragana characters are more rounded than Kanji symbols, which is worth bearing in mind depending upon your artistic tastes. Hiragana writing is also known as cursive, so don't get confused if you hear someone speaking about a cursive tattoo.
3) Katakana
The system of Katakana is similar to Hiragana. Together they're known as Kana and were originally based on the Kanji symbols which existed more than one thousand years ago. Since than they've developed into their present form and both Hiragana and Katakana each have their own set of 46 symbols with which to form their words.
The system of Katakana symbols
The system of Katakana symbols is used almost exclusively to represent words that are non Japanese in origin. These symbols are similar to the system of hiragana with the main difference being that words in Katakana have sharper edges and are much more angular in appearance.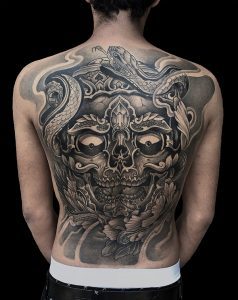 Three types of Japanese tattoo
And that concludes the three types of Japanese tattoo symbols that are available. However, there's no rule that says you have to choose one style and stick to it. You could have your tattoo designed so that it includes more than one of these styles. For example, you could have a sentence written using Hiragana that includes various Kanji symbols to enrich it with greater meaning.
whatever option you select
But whatever option you select, it's important to take one additional safety precaution before you go anywhere near a tattoo studio with your design. As you can see from this brief explanation of different character types, the system of Japanese writing is extremely complicated and subtle.
So unless you want to walk around wearing a Japanese tattoo that looks like a bad practical joke, if you don't speak Japanese fluently, it's vital to get an accurate translation of your design from a Japanese language expert.
It's also a good idea to make sure that you find a tattoo artist who has experience forming the various Japanese characters and symbols.
The best way to find your perfect Japanese tattoo Artist in Goa
The best way to find your perfect Japanese tattoo is to do your research and then think long and hard about it before you make your final decision.
Use the internet to look at as many different types and styles of Japanese tattoos as possible. Do some research on the culture and learn how the language operates. After that, spent time thinking about what ideas and meanings you want to express through your tattoo design.
Ultimately, the tattoos that people are most pleased with are those that have deep personal meaning or significance.