As we know now, Shiva is the supreme of all the gods that are present in Hindu mythology. Therefore, he is considered the most powerful god too. There are millions of people who are followers of Shiva, especially those who believe in yoga too because of his meditative postures.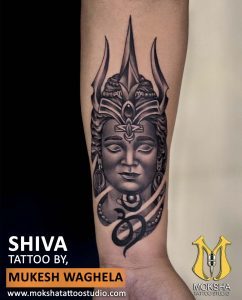 When it comes to tattoos, many people search for a design that reflects their spiritual beliefs and understanding and so they often accompany the Shiva portrait with his unique and meaningful symbols.
This tattoo is a fully customized design by Mukesh Waghela The Best Tattoo Artist In Goa, the Trishul on the head gives it a very Royal look, and as always, Lord Shiva's portrait is realistic. A truly amazing work of art.
We can create a meaningful tattoo for you too. If you like our art and want to get a tattoo, Contact the best tattoo studio in India on
Contact no: +91 9881773312
Email id- [email protected]
Mukesh Waghela Best Tattoo Artist in Goa.
Owner of Moksha Tattoo Studio Calangute Goa India, Best tattoo studio in Goa.
Book your appointment.
Website:
Best Tattoo Artist in Goa Safe, Hygienic #1 Best Tattoo Studio Goa
Best Tattoo Artist in Goa Safe, Hygienic #1 Best Tattoo Studio Goa
https://www.mokshatattoostudio.com